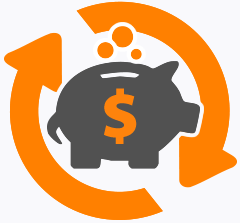 We are the only delivery management company so confident of its product to offer a 7 days free trial test..
If you paid more than 5,000 euros for fuel last year, we guarantee that our software will save at least 2,000 euros for you (and it will cost you a fifth of the savings!). It is a guaranteed return on investment of 500%.
Even if our forecast doubles real value, you will still save more than 1,000 euros and take no more than 60 seconds a day to plan your deliveries with the best routes.
Increase your earnings, reduce kilometers traveled, consume less fuel and assign your missions to fewer drivers: With our system, driving time is reduced on average by 35%.
Contact us immediately to start the free trial
Yuo can plan deliveries also during the free trial of 7 days
Employee scheduling, routing, and operating staff tracking are the biggest obstacles to growth for any service, field sale, or delivery business. Our route planning software will help you overcome all your business needs, improving customer satisfaction, lowering operating costs and reducing time taken to plan routes to less than 60 seconds per day.
Working procedure
Enter your delivery list by hand, by copy and paste or by uploading a file. Assign it to the driver group and click "Optimize". That's all!
10 seconds to get the best delivery route of the day, for every driver in your company. Delivery routes are optimized for the fastest possible delivery for your entire corporate fleet.


Only three steps to plan routes optimization and its scheduling
Just type, copy and paste or upload the list of customers or addresses you need to visit. Select the planned route, view the optimized route on your computer, immediately send it to your mobile device and drive.

Group and fleet routes optimization
Upload files even with hundreds or thousands of orders, one or more depots, with support for dozens of regions, hundreds or thousands of drivers. Optimized routes are created and distributed to operative staff and can be monitored in real time. From a single dashboard, you can monitor the team, move customers from one location to another, monitor the entire fleet and much more.

Synchronize with your iPhone, iPad and Android device
Our route planning apps offer real-time synchronization of customer deliveries and addresses, written notes and photos at each stop, signal verification on the display, route progress, location tracking and more.
This is the only route planning software that has native applications built for iPhone and iPad and Google Android.
With over 2,000,000 downloads and tens of billions of miles planned since 2009, you can rest assured that our app has been thoroughly tested and improved over the years.
The app offers detailed driving directions and works automatically with Google Maps, Waze and can be integrated with all major third party software.
Locate and visit your customers
Map, search and rank your customers and prospects using our app. If you have a new business, you can enter customer information each time you close a new account. And, if you are already established, you can upload thousands of customers at the same time. As the business continues to grow, you can set up sales and delivery zones.
Once addresses are loaded, select the ones you want to visit or easily plan a new route by plotting a region around the customers to be visited. You can also specify the exact time when a customer must be visited.
Check all optimized routes
If you have multiple routes and drivers, our application provides an overview of the entire operation. Reassign drivers and vehicles, move an address from one route to another and monitor the progress of the route in real time.
In addition to our fleet route optimization features, your account is linked to our mobile apps, so that drivers and customers are instantly notified about changes and you see every address, order, note, image, video and change that they make into your account.
Get route information immediately and real time
Find immediately useful information for your work
You will see your business more clearly because we will show you detailed kilometers, route status and fuel cost savings. In addition to detailed driving costs, each address on a route can capture extensive information such as revenue, costs and service times. You don't need to be skilled with math or sophisticated accounting software. Everything about your business is automatically calculated and can be used to make common business decisions. In just a few clicks, you can see useful information about a specific route, driver or region.


Track deliveries progress, take pictures, add videos, notes and more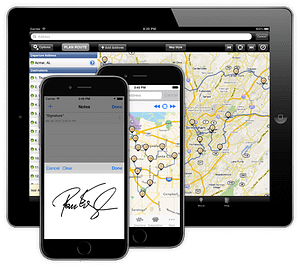 We provide you the only route optimization software that has applications for iPhone, iPad and Android that allow to attach notes and GPS-traceable multimedia content of any type to any stop on your route.
You and your drivers, users, customers or employees can mark each location as visited, abandoned, have signed electronic confirmations and you can see all notes, media and track all progress in your company. Route arrival and departure times are updated as soon as the check-in or check-out is done.
Delivery planning software
suitable for your business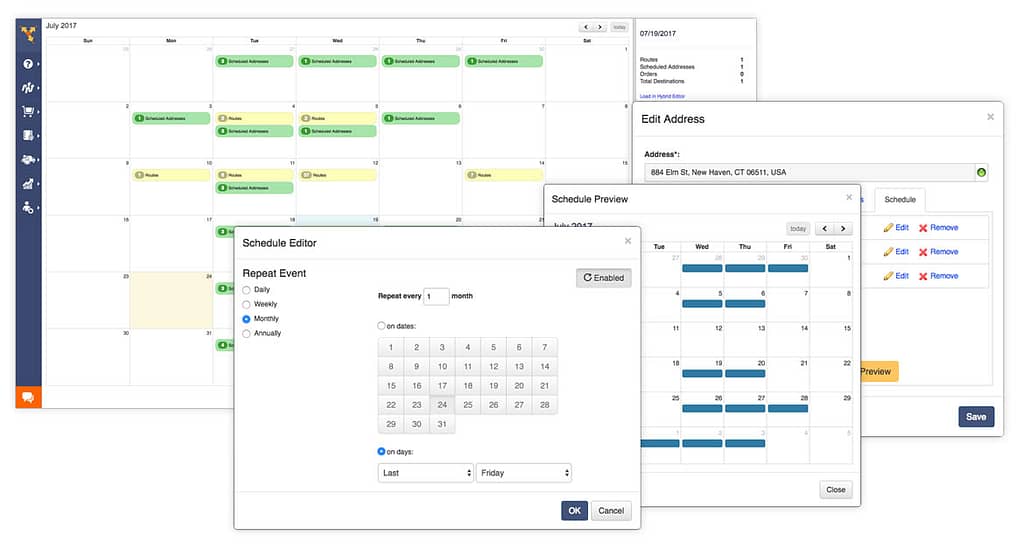 Our software adapts to deliveries changing daily, weekly or every season.
Weekly pool cleanings, scheduled sales visits or daily changing delivery routes are no longer a problem. Because regardless of how often your business requests to visit customers, our planning software allows you to organize routes that fit any schedule, shape or size.
And it's not just limited to dynamic delivery route planning or service route planning: you can use it for sales route planning. Each activity on a route by a driver is tracked via GPS and fully defined.