Whether it's for a longer trip around the city, a small move, or a bulky commute, everyone needs a car from time to time. That's when car sharing becomes the perfect solution: no need to make a big investment on a vehicle as you pay-as-you-go, plus complete flexibility in a given area and at your own time. On top of this, more and more people in big cities are choosing not to buy a car and rely on different sharing systems, so it's a huge opportunity for operators who want to explore this growing market.
In this article, you will find answers to the important questions about how to start a car sharing business. Let's start!
How do car sharing programs work?
Car sharing systems work by giving users a way to rent a car for a short or medium ride without any human interaction needed. Anyone wishing to rent a car can find it on the map and book it using a digital payment system, typically within the car share company's app. The user then drives to their intended destination, parks it freely or in reserved parking nearby and ends the rental on the app paying only for the time they spent behind the wheel (an automated process, once again). Being vehicles spread all over cities, it's likely that you will find a car in your area with no fuss. This system is called one-way car sharing and allows users to start their journey in a given location and end it in a different one, handling the whole rental and payment process digitally.
Are car sharing companies profitable?
Compared to car ownership, car sharing companies offer a range of benefits that are particularly attractive for people who don't want to make big investments and are fans of on-demand services. No one can say for certain that every car sharing company will be a success, but there is some clear historical data to point to that suggests they are on average profitable. The factors that will affect these outcomes and on which you need to reflect include:
Location: Doing some research on the urban environment in which your business will operate is the first step to test the viability of your project. Is your area suited for car sharing? How is the parking situation there? How big is the city you are willing to establish in? Are there many car-free zones that can potentially prevent your success?
Timing: Cars are not a weather-sensitive way of moving around, so timing becomes a factor to consider in terms of launching your sharing company — Does it make a difference launching in summer or winter? Do people leave your city during summer yet you can rely on tourism? These are all questions that need an answer.
Competition: Are there any other car sharing operators in your city? How are you going to handle the competition?
Price of rentals: Normally, car sharing companies charge a fixed cost for opening the car and have a flat rate per minute. You can decide yours based on your operational costs and develop minute packages to incentivize people to become frequent users.
Maintenance efficiency: Before you launch your car sharing business, you need to lay out all the maintenance costs you will have to sustain — are you going to use electric cars? If so, they have a whole different maintenance process compared to petrol cars. It is important to lay out all the maintenance efforts you will encounter and be aware of them from the beginning.
Marketing and customer care: a good marketing strategy is essential to get your car sharing company to reach your goals and well-known in your city, while attentive and responsive customer care makes sure that every user gets the support they need.
These are just a few essential elements to keep in mind which affect the whole structure of a car sharing business model.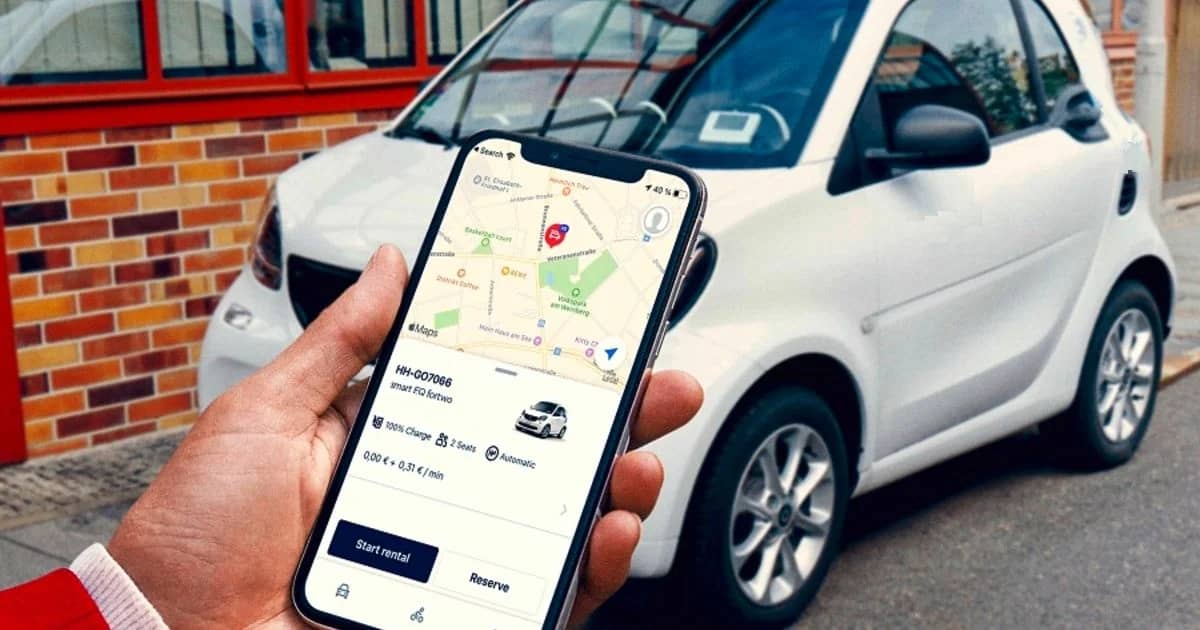 How to start a car sharing business
1. Begin with branding
Before getting ahead of yourself, remember that you don't really have a car sharing system if it doesn't officially have a brand name, logo, website, sharing software, etc. Visualize what you want customers to see and feel when they install your app or visit your website. Think about creating a logo that signifies your brand ideals — flexibility, practicality, fun, sustainability… you name it. And try and choose a brand name that not only stands out but also explains the features that make your business unique.
2. Outline your goals and targets — short, medium and long
When starting a car sharing business, there are different targets you want to reach. You need to establish a good relationship with your city administration and become citizens' go-to mobility solution while becoming profitable at some point. After determining your target, set some realistic goals in the short- and long-term and start chasing them!
3. Consider the best cars for your sharing business
Depending on what type of car sharing model you want to build, you will have to choose different vehicles – is your car sharing meant to be seen as agile and fun? Or the go-to solution for families with kids? What about users looking for a car to make a small move in the city? If you don't have a specific idea yet, it's advisable to choose standard vehicles that can serve more than one function. Generally, here are a few things to consider:
Cost
Maintenance
Number of seats
Brand imagery (connected to the car model)
Security (from theft, vandalism, etc)
color/shape
4. Obtain the necessary documentation, licenses, and authorization
There is quite a bit to be done in terms of appeasing city officials and obtaining proper identification and insurance. This will of course vary geographically, but the one consistent thing in every area is that you'll want to have this thoroughly researched and squared away to avoid unpleasant surprises. Also, start administrative processes as soon as you can, as each city will require different parking parameters, viability adjustments and limitations on quantity, plus a lot of time to grant you the documents you need.
5. Always put security first
Lastly, to prevent major inconveniences to customers and your own company, it's important to implement a car sharing program with quality security. It would not be the first time that a car sharing company became the target of hackers attack, so it's important to choose a software that allows for close data monitoring to spot any anomalies. Also, the locking mechanism should be seamless for the user, never giving them problems as they unlock and relock the cars many times during the day, month and year.
Finally, consider how you'll want to track your fleet. This is generally done through some type of GPS system, and to keep your fleet completely secure and fully trackable, you'll want a system that is reliable and easy to manage.
Bearing all these factors in mind, you should be able to have a real thought about the car sharing business model and whether you can work on building a profitable company working in the mobility industry. On the software side, Wunder's software solution can be a valid ally in your journey to success!
Click here to have more information about the Eteria sharing platform