GetGo has seen tremendous growth since its launch in February 2021, and is now dubbed as Singapore's largest car-sharing service.
"Compared to our first full month of operations, we have grown more than 30 times in terms of our booking," said Toh Ting Feng, 39, Chief Executive Officer and co-founder of GetGo.
"We are in almost 70 per cent of all HDB carparks," he added.
In just two years, the company's fleet has gone from over 300 vehicles across 300 locations to over 2,100 vehicles, including close to 100 electric vehicles (EVs), across 1,400 locations today.
Its user base has also grown 25 times to over 250,000, and the team has also significantly expanded, from 10 to more than 150 people.
An affordable alternative to car ownership
GetGo was founded with the vision of putting the freedom to drive in everyone's hands.
In a world where car ownership is becoming increasingly expensive, GetGo is providing an accessible and affordable solution to meet the needs of those who desire driving freedom.
We're currently living in an inflationary environment, so car ownership, like most things, is getting more expensive — car prices, fuel, insurance, and overall cost of living. Furthermore, in Singapore, exacerbated by the constraints of our COE (certificate of entitlement) quota system, over one million households here in Singapore do not own a car, thus they have zero to minimal access to driving freedom – Toh Ting Feng, CEO and co-founder of GetGo
Coupled with the pandemic and the work-from-home trend, the need for car-sharing has further accelerated, and GetGo has responded by providing a safe, private, and flexible mobility option.
The company's Pay-As-You-Go policy, where users only pay for what they use, and its seamless and secure sign-up process have helped to attract new users.
"Unlike other traditional peers, we are the first car-sharing and rental company to not require a deposit or monthly subscription to enjoy our service, as our users only pay for what they use," said Ting Feng.
The company has also streamlined the sign-up process, making it possible for users to start driving within five minutes of signing up using MyInfo via Singpass. GetGo is also committed to making access to driving freedom more affordable by enabling multiple users and households to share each vehicle, making them more efficiently utilised.
"Car-sharing is inherently a social service, as our users seldom book a car only for themselves. In that way, as our users bring their loved ones around in a GetGo, they naturally will come to know our brand," said Johnson Lim, 29, Chief Marketing Officer and co-founder of GetGo.
The fact that the company has significantly increased its fleet size also makes it easier for users to find a car nearby as well as increase their brand awareness, as most people will see at least one GetGo on the road each day.
Convenience in the form of proximity to a car is crucial for car-sharing users, which is why we've doubled our fleet size and coverage to over 2,100 cars and 1,400 locations islandwide — this enables our most of users to find a GetGo car within three to five minutes' walk from their homes – Johnson Lim, CMO and co-founder of GetGo
Business growth comes with challenges
With its exponential growth, Ting Feng is aware of the challenge in maintaining its title as Singapore's largest car-sharing service.
"The evergreen challenge for us to maintain our leadership position is for us to continue to drive innovation and improvement, so as to provide a best-in-class service and experience for our users," he said.
GetGo aims to maintain its position by continuing to attract, serve, and retain a growing number of users and ensuring that the cars on its platform are efficiently utilised. By doing so, the company can attract more partners to supply more vehicles.
He added that the growth of GetGo has not been without challenges, recounting the numerous operational and growth challenges they have faced as a team.
One recent challenge the company faced was maintaining the quality and security of its user community. To tackle this challenge, GetGo re-imagined and re-engineered its registration and authentication process in collaboration with partners like GovTech and Jumio to include facial and identification verification while retaining the seamless process.
He stressed that they continually invest in and improve its user verification capabilities to ensure only qualified users can use its service.
Another challenge was the increasing complexity of maintaining its growing fleet size. To overcome this, GetGo developed an in-house fleet management system to monitor its fleet and coordinate and optimise its maintenance operations. The company also invests in data analytics capabilities to drive and raise operational standards across its fleet management and user experience.
With their commitment towards improving user experience, safety is a top priority for GetGo. That said, the company takes the recent spate of accidents involving its cars seriously.
To reduce accidents, GetGo has community education campaigns and clear guidelines that define responsible usage. Users who cause inconvenience or engage in bad driving can be penalised or banned from using the service.
By utilising a combination of community reviews and preventive technology, we will be able to identify and deter undesirable actions. For instance, we have a seamless vehicle status reporting feature that allows users to report damages to the cars, so that we can investigate and follow-up with the responsible users – Toh Ting Feng, CEO and co-founder of GetGo
Should a user be at fault for an accident or damages, they will be responsible for the costs of repairs up to a fixed ceiling, beyond which the excess costs are borne by insurance. This serves as a deterrent and reminder for users to drive safely. In severe cases of bad driving, GetGo does not hesitate to ban users permanently.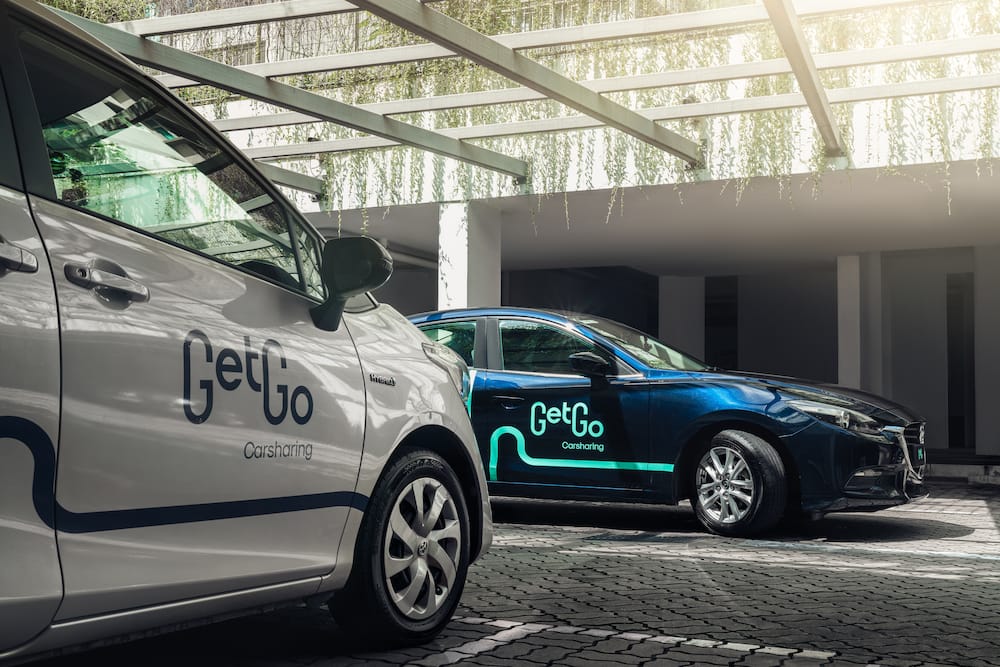 The demand for car-sharing in Singapore continues
Launched at the height of the COVID-19 pandemic, GetGo was presented a unique opportunity to capitalise on the growing demand of private mobility options.
Ting Feng saw the pandemic as a time of great change and challenges, but also an opportunity to innovate in the field of car-sharing. With public transportation and ride-hailing options facing uncertainties around safety and hygiene, GetGo was able to tap into the desire for mobility options that offered more protection and privacy.
This proved to be a successful strategy as GetGo's pre-launch marketing resulted in 10,000 people on the waitlist for its launch. The company also saw a unique opportunity to help rental companies put their idle cars to productive use, which helped kickstart its car-sharing fleet.
As the pandemic recedes, the desire for mobility has grown and moved back towards pre-pandemic levels. GetGo has built on its initial traction to grow with this growing demand, thanks to the standards and scale of the brand and platform it has established.
Since its launch, GetGo has seen consistent month-on-month growth in demand as more commuters become aware of the benefits of car-sharing.
The company sees demand spikes during festive and holiday seasons, such as the year-end holidays, Chinese New Year and Hari Raya, as users and their loved ones go out more. This has led to many users booking 30 days in advance and GetGo's fleet often being fully booked out.
Another trend that GetGo has observed is a rising preference for EVs among its users.
EVs tend to be newer, safer, as well as more economical for longer bookings and drivers, as we charge only S$0.29 per kilometer for our EVs – Johnson Lim, CMO and co-founder of GetGo
As part of its efforts towards electrification, GetGo has a goal of deploying a fully electric and hybrid car-sharing fleet of 10,000 vehicles by 2030, aligning with the wider Singapore Green Plan 2030.
The company plans to onboard and deploy a significant number of EVs this year, and will progressively shift its fleet composition towards EVs in line with the development of EVs and the local charging infrastructure.
Freedom of mobility is a "fundamental need"
Ting Feng describes the freedom of mobility as a "fundamental need", as it enables drivers to achieve the dream of driving without the hefty financial burden of car ownership.
According to him, younger generations are increasingly less interested in owning a car, given the rising costs and the trend towards hybrid work environments. There is also a growing awareness of environmental issues, which has encouraged the local population to embrace the car-sharing sector.
This also explains GetGo's shift towards EVs. Ting Feng sees electrification of vehicles as a key opportunity, as it not only aligns with the development of EV mobility infrastructure in Singapore, but also capitalises on the growing interest in EVs among drivers.
With a focus on sustainable mobility, GetGo aims to reduce the need for car ownership and increase access to mobility, which should result in more resource efficiency within the transport ecosystem, freeing up space for the community, and reducing the number of cars needed on the roads.
Looking ahead, GetGo has big plans for the future, with a goal of becoming a leading car-sharing service internationally as it continues to lead on the innovation front.
Click ere to see how YouMove can be used as a carsharing platform for your fleet