Semi-trailers are one of the key means to ship larger cargo, and every business owner wants to make sure it is well-monitored and protected. Our asset tracking solution is just the right choice for it.
Road transportation is still one of the most popular modes of goods transportation, as it offers financial advantages over other forms of transportation. Semi-trailer logistics, precisely, is preferred for shipping a variety of cargo. Since the e-commerce business expands, the need for a sophisticated distribution network amplifies.
Another factor influencing the development of the market is the growth of the end-use industries, like a cold chain. The growing economy in the advanced countries allows people to spend more money on pharmaceutical products, poultry, fresh flowers, fish, dairy products, fruits and vegetables. Therefore, it is no surprise that efficient logistics is indistinguishable from delivering services of high quality.
Business owners, however, have to deal with some problems related to semi-trailer logistics. From time to time, there are reports surfacing on the media about loaded trailers getting emptied by thieves which causes hefty financial damages. Also, there are cases when the shipped cargo is damaged due to improper temperature monitoring. Over the last years, TT Club, and TAPA EMEA identified a significant increase in criminals targeting cargo at rest. Whether it be at unsecured parking lots or container yards near port facilities, delays indirectly made cargo more vulnerable to tampering by thieves and smugglers. These cargo crime trends are juxtaposed with record-breaking cargo transiting through ports, driving record-breaking port congestion and idle times.
Smart IoT solutions nowadays can help dealing with the mentioned issues, and Eteria has one with your desired perks included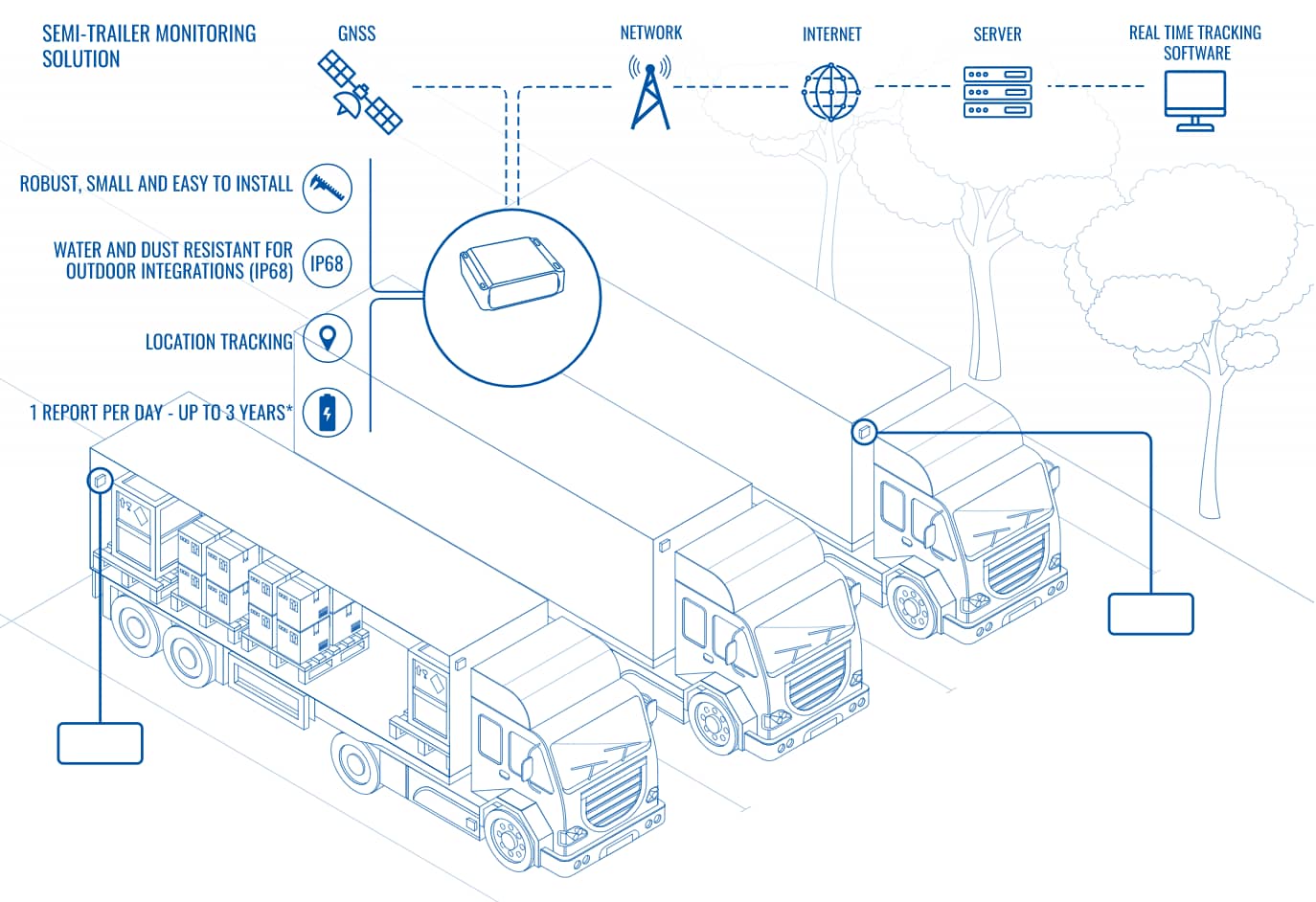 Since there is a problem with thefts coming from loaded semi-trailers, our Mobile Tracker is equipped with the features designed to combat it. First of all, the tracker helps to identify where your semi-trailer is at any time through periodic or scheduled tracking. Secondly, the additional IoT sensors enable instant notifications if there is an unauthorized attempt to open the trailer.
Moreover, if your customer wants to monitor the temperature inside the (refrigerated) trailer, the installation of additional IoT sensors assures you won't miss any deviations from the configurated norms.
Since the tracker can be configured to send notifications at particular periods of time and wake up when there is undesired action related to the security of the assets, you wouldn't need to worry about charging it constantly. All in all, in your online platform where you can easily follow the situation and alter the tracking/notification parameters if needed.
BENEFITS
INCREASED SAFETY. The Bluetooth sensors will ensure theft detection and up-to-the-minute transmission of security alarms. For example, in case of an unauthorized attempt to open the semi-trailer.
PROTECTION OF QUALITY OF GOODS. The information about sudden decrease/increase of temperature will quickly reach responsible people to protect the cargo. All in all, additional IoT sensors allow accurate temperature monitoring to maintain the semi-trailer within the set limits.
SMALL, ROBUST AND EASY TO INSTALL. Our tracker can be set up manually in just a few minutes. Meanwhile, FOTA WEB tool enables encrypted connection via the internet and easy access to the online platform.
Click here to learn more about Mobile Tracker